Professional Painters in Upstate New York

Credentials
Fully Insured (Liability & Workers Comp).
Experienced Craftsman.
Residential & Commercial Experts.
Family Business.
One of the North Country's premier
Painting Companies.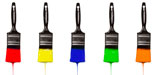 Service Area
North Country Painting specializes in
painting homes and businesses in the
Adirondack region of Upstate New York.
Including Lake George, Queensbury,
Glens Falls, Saratoga, Clifton Park and
the surrounding towns.
All major credit cards accepted